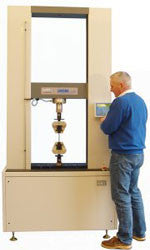 Lloyd
LR Plus Series (floor standing) - Up to 150 kN
---
The stiffness compensation on these test machines allow compensation to be made for any deformation of the load frame, load cell and grips during compression testing.
The advanced LRPlus materials testing machines incorporate an extensive range of features making them ideal for performing complex as well as routine testing applications up to 150 kN (33722 lbf).
The LRPlus Series are floor standing test machines, featuring a dual column design with crosshead travel range of up to 1150 mm (45.3 in) and a load cell accuracy of 0.5%.
The high stiffness frame incorporates a crosshead guidance system to prevent side loading of the sample under test.  The crosshead is driven by twin lead screws and a high precision servo motor and DC servo system, to achieve a wide range of speeds.

The NEXYGENPlus software interacts with Excel and Word, offering you the possibility of automatically transferring your test results directly into your own corporate templates.
The LRPlus Series is available in two floor standing models: the LR100KPlus and LR150KPlus, with capacities up to 150 kN (33722 lbf).
The LRPlus Series is also available in four bench mounted models.
LRPlus Series Key Features:
Simple to set up, operate and maintain

Data sampling rate 8 kHz

Multilingual and multi-unit display options as standard

Export data directly into your Excel and Word templates 
---
Share this Product
---
More from this collection