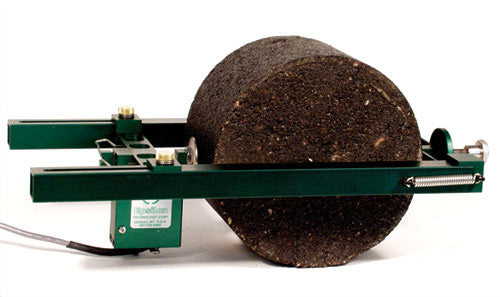 Epsilon
Epsilon - MODEL 3911 Extensometers for Indirect Tensile Testing of Asphalt
---
Designed to meet many of the needs for testing asphalt core samples in 4 and 6 inch diameters. It meets test method requirements for strain measurement developed under the U.S. Federal Highways SHRP program.
For indirect tensile testing, such as for resilient modulus, these extensometers measure the lateral deformation of specimens. They are self-supporting on the sample and clip on in seconds. The traditional way this deformation has been measured was prone to errors caused by slight rocking of the sample as it is loaded. The self-supporting design of the Model 3911 eliminates this problem. This unit will handle the dynamic pulse requirements of resilient modulus testing.
The speed of mounting makes test set-up much faster than with the older method. The pivot mounting used ensures that the specimen contact pads meet the often uneven asphalt surface as well as possible.The measuring range options available allow a wide range of testing, yet can easily measure the sometimes very small displacements required.
The Model 3911 extensometers are strain gaged devices, making them compatible with any electronics designed for strain gaged transducers. Most often they are connected to a test machine controller. The signal conditioning electronics for the extensometer is typically included with the test machine controller or may often be added. In this case the extensometer is shipped with the proper connector and wiring to plug directly into the electronics. For systems lacking the required electronics, Epsilon can provide a variety of solutions, allowing the extensometer output to be connected to data acquisition boards, chart recorders or other equipment.
Features
Model 3911 indirect tensile extensometer for asphalt, for testing per AASHTO TP31 and ASTM D4123.
Full bridge, 350 ohm strain gaged design for compatibility with nearly any test system.
All standard units have linearity readings of 0.20% or better.
Includes high quality foam lined case.
Rugged, dual flexure design for improved performance.
Easy mounting with built-in breakaway feature should specimen fracture.
---
Share this Product
---
More from this collection