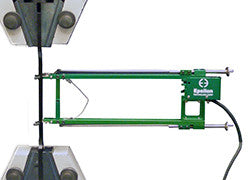 Epsilon
Contacting Extensometes
---
The contacting extensometers are designed for accurate strain and extension measurement of a material up to a maximum sample thickness of 25 mm.
We provide a wide variety of contacting extensometers in just the size you need.

Our general purpose, precision extensometers are designed for testing a wide range of materials including metals, plastics, composites and ceramics operating in tension, compression and cyclic testing modes.

Its dual flexure design means a higher frequency operation is permitted, while eliminating vibration sensitivity at the same time. Each extensometer is supplied with an attachment kit to allow quick one-hand mounting to the sample.

Contacting Extensometers Key Features:
- Available in many sizes
- Easy mounting to the sample

For more information about our range of contacting extensometers please see the Epsilon Extensometer Catalogue.
Contacting Extensometers Manual
---
Share this Product
---
More from this collection