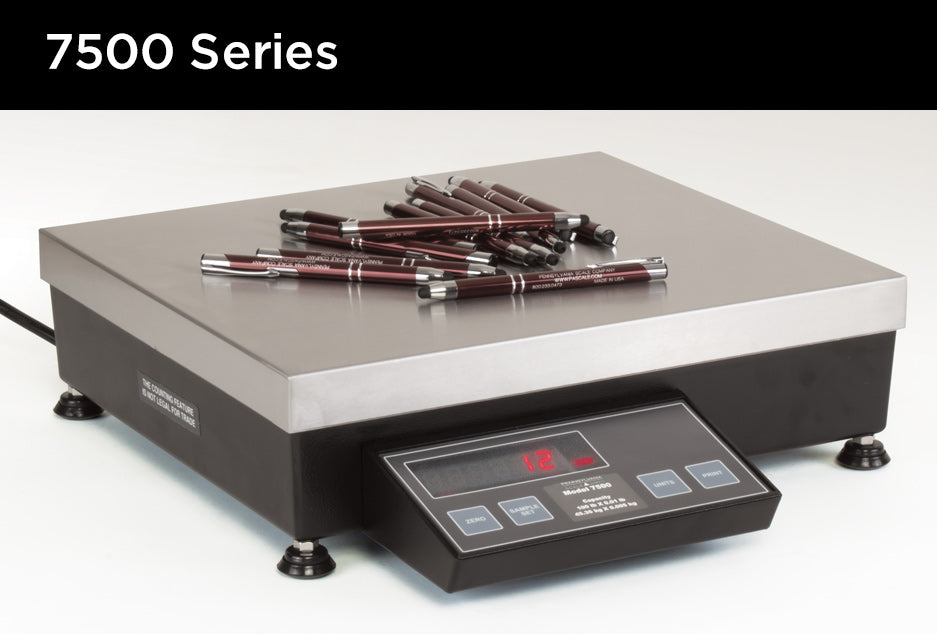 Pennsylvania Scale Company
Pennsylvania Scale Co. 7500 Series Bench Scale
---
Fast, Accurate, and Dependable
Designed for speed and exceptional accuracy, the 7500 series is the heart of any inventory control requirement. No other counting scale provides more impressive performance and value with the simplicity and rugged durability of the 7500.
Applications
Shipping or receiving verifications
Checking quantities for production or inventory
Rental scales for short term use
Bench or portable weighing
Shipping manifest systems or SPC/SQC
Quality control
Weight Capacities
(Other weight units or graduations are available–contact your distributor)
Capacity lb/kg
2 lb x 0.0002 lb – 907.2 g x 0.1 g
5 lb x 0.0005 lb – 2268 g x 0.5 g
10 lb x 0.001 lb – 4536 g x 0.5 g
20 lb x 0.002 lb – 9.072 kg x 0.001 kg
50 lb x 0.005 lb – 22.68 kg x 0.005 kg
100 lb x 0.01 lb – 45.36 kg x 0.005 kg
150 lb x 0.02 lb – 68.04 kg x 0.01 kg
200 lb x 0.02 lb – 90.72 kg x 0.01 kg
Platform
8 x 8" – 203 x 203 mm
8 x 8" – 203 x 203 mm
12 x 14" – 305 x 356 mm
Internal resolution: 1 part in 1 million
Weight displayed at 10,000 graduations; programmable to any (2) weight units up to 1 part in 20,000 stable
Fast response of less than 2 seconds full scale
Display Module
Stable, 0.56" 6-digit, 7 segment, bright green LED display
Zero; hold for Zero/Sample Set
Unit (choose 2 weight units and count)
Print
Count Features
Auto Sample Update (TM) for improved accuracy
(4) pre-set sample sizes, 10-20-50-100 pieces
(can be programmed for any sample sizes)
Fast, one-button operation
Data Communications
Bi-directional RS-232 data output; flexible & powerful
Programmable data stream for easy custom formats
Network Addressable
Compatible with a wide range of serial input printers
Fast, easy set-up
Physical Dimensions
14" (L) x 15.5" (W) x 5.25" (H); 15.25 lb.
356 mm (L) x 394 mm (W) x 133 mm (H); 6.92 kg
Options
Battery/AC operation; self-contained
Time/Date with battery back-up
Auto dual ranging resolution
Basis weight scale; weight plus ream weight
Remote displays (remote connector provided)
7500R with remote display module
Warranty
The parts and components of these Pennsylvania Scale Company products are warranted for four years from the date of retail delivery against defects in materials and workmanship, subject to the terms and conditions of our standard warranty.
---
Share this Product
---
More from this collection