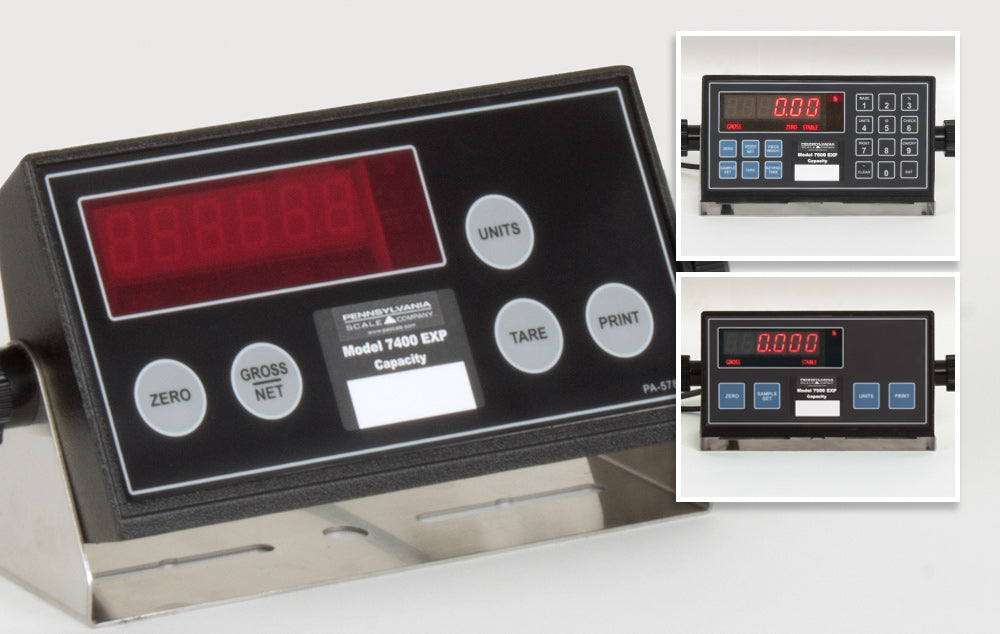 Pennsylvania Scale Company
Pennsylvania Scale Co. 7400, 7500 & 7600 EXP Series Indicators
---
Powerful and Compact
Innovative features at an attractive new price point either as a stand-alone weighing system or part of a DIMENSIONAL, MANIFEST, DATA COLLECTION, or WEIGHING/COUNTING SYSTEM. USB for both power and data eliminates the power cord and provides a wide range of power options (optional) from the open market such as car chargers, vehicle power, USB power hubs, battery packs for portability, solar and more. Ideal for portable RENTAL SCALES, data collection, field testing, medical, scientific, and other remote installations where power is unreliable or not available.
Applications
Truck and heavy capacity weighing
Platform scales
Package manifest shipping systems (standard default settings) UPS Worldship™, FedEX, DHL, and other output emulation for plug-and-play integration
Field testing, mobile weighing, data collection – weigh or count
Rental scales for short term use
Medical
Airline Baggage
Permanent, portable, or temporary installations
Custom OEM products
Standard Features — All Models
Die cast enclosure w/SS U-bracket for wall or shelf
USB power — HD cabling and AC adaptor
0.56" red high intensity display w/annunciators
Technician friendly — Runs same software as our PLUS+ Series
16 million internal counts for high precision counting
USB data or programmable output via RS-232
PLUS+ Series components in new efficient, compact size
10-point linearization (7400 EXP)
Access code protects metrological settings + Audit trail feature
Keyboard calibration
Specifications:
24 bit delta sigma load cell A/D converter
Sensitivity: 0.1 uV/graduation
Excitation: 5 VDC, 120 mA max
Up to (8) 350 ohm load cells or (10) @ 1000 ohms
High intensity 0.56″ red LED display (6) digits w/annunciators
Weight in 2 user-selected units of measure + COUNT feature
Quick disconnect for standard CPC mating connector OR hard wire to terminal strip via Heyco fitting
Factory matching to any Pennsylvania platform
Power: 5 V, 1 A via USB input — cable and AC power
8′ HD USB cable and 100–240 V switching adaptor included

OPTION USB vehicle 12 VDC vehicle cell phone power source
OPTION USB laptop or portable device
OPTION USB power bank for portability
OPTION USB power bank w/solar charging
Enclosure: Black powder coat aluminum die casting
With U-bracket and knobs installed: 9 x 4 x 3.25" inches (23 x 11 x 7 cm)
Enclosure only, set up as turret mount (no wall bracket or knobs): 7.3 x 3.9 x 3.25" inches (18.5 x 10 x 7 cm)
Warranty
The parts and components of these Pennsylvania Scale Company products are warranted for ONE YEAR from the date of retail delivery against defects and materials and workmanship, subject to the terms and conditions of our standard Warranty.
Models
7400 EXP: Weight-only indicator ideal for high capacity applications in lbs/kgs.
7500 EXP: Super high precision with 16 million internal counts for parts counting

(2) Programmable units of measure + count mode
Single or 1-button sampling (select)
4 fixed sample sizes or easily customized
Auto Sample Update™

 

feature for accuracy enhancement

7600 EXP: Adds keyboard for Tare or APW entry

Displays Average piece weight or weight/thousand pieces
%-Error or %-Accuracy sampling guide (setting)
Single or 2-step sampling
Key in any sample quantity plus (4) preset sample sizes
Options
Custom software specific to application — contact factory
Custom packaging or flush mounts — contact factory
Turret mount options — easily configured
Approvals
---
Share this Product
---
More from this collection